Services

Interiorscapes provides exceptional plant services for a range of clients. We service small office settings, large corporate facilities, retail properties, hotels, restaurants, churches, schools and universities, hospitals, retirement communities, neighborhood and condo associations, apartment properties and more. Our passion is utilizing the beauty and greenery of nature to enhance interior and exterior spaces. Use the links below to read about all the services we offer for interior spaces, exterior spaces, holiday installations and special events.
From custom interior plantscape design and maintenance to weekly fresh cut flower arrangement delivery, Interiorscapes will enhance your interior business setting with vibrant greenery and floral installations. Learn more about all our interior plant services.
Interiorscapes insures your outdoor landscaping and green spaces remain colorful and impressive throughout all the seasons of the year. Learn more about all our exterior landscape services.
Our design team has a knack for transforming office and property settings into magical holiday and Christmas wonderlands. From trees and greenery to traditional decorations, holiday plants and even larger than life props, we can provide a holiday design to get your clients, guests or residents in the spirit of the season. Learn more about all our holiday decoration services.
We'll help fulfill your event vision with artful tablescapes, beautiful floral arrangements, plants, trees and other decorative props that will enhance your guests' experience. Learn more about all our event decoration services.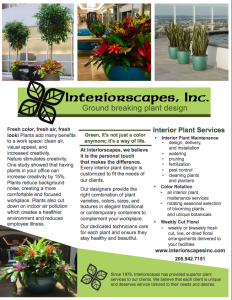 For more on Interiorscapes, check out our Brochure.