About Interiorscapes Inc., Birmingham, Alabama
Since 1978, Interiorscapes has delivered superior plant services to companies throughout Alabama.
Our talented team of designers, landscapers, and technicians customizes each project to your unique needs.
As your one-stop shop for enhancing interior and exterior work environments, we offer a wide range of beautiful living plants. From permanent installations to events or the holiday season, our expertise and vast inventory make it happen.
---
SERVICES
We are passionate about using the beauty of nature to enhance indoor and outdoor spaces.
Interiorscapes specializes in enhancing your interior business setting with vibrant greenery and floral installations. From custom interior plantscape design and maintenance to convenient weekly fresh cut flower arrangement delivery, we offer a comprehensive range of services to transform your space into a captivating oasis. Learn more about all our interior plant services.
We guarantee that your outdoor landscaping and green spaces maintain their vibrant colors and impressive allure all year round. Learn more about all our exterior landscape services.
Experience enchanting holiday wonderlands with our expert design team. From adorned trees to lush greenery, traditional decorations, holiday plants, and larger-than-life props, we create captivating designs that immerse your clients, guests, or residents in the true spirit of the season. Learn more about all our holiday decoration services.
Let us bring your event vision to life by crafting artful tablescapes, exquisite floral arrangements, and incorporating plants and trees that will elevate your guests' experience to new heights. Learn more about all our event decoration services.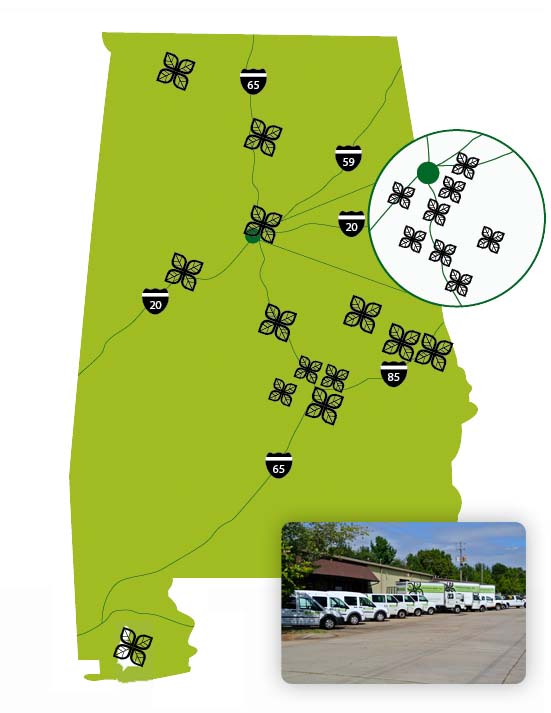 Though founded in Birmingham in 1978, thanks to our loyal customers, Interiorscapes has grown to reach clients all over the state of Alabama. From Muscle Shoals to Montgomery, we provide exceptional plant care, floral design and holiday decor. Check the map above to see if we service plants in your area!